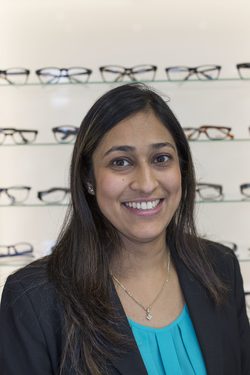 Seema was always interested in medicine. However, when she was 14 she was given the news that her father had glaucoma (a condition of increased pressure within the eyeball, causing gradual loss of sight) and it was then that she decided on a career in optometry.
Ever since studying hard and obtaining her qualification to become an optometrist in 2000, Seema has dedicated herself to providing unrivaled eye care to the inhabitants of Pinner and the surrounding areas. She even has people coming to see her from further afield and even abroad.
Expect a warm welcome from our reception team. Over the years Seema has surrounded herself with a friendly, professional team who are each passionate about the care their patients receive. Today, when you visit our practice you can expect a warm welcome from our reception. You will then have your eyes tested by Seema, before speaking with our very experienced dispensing staff – should you require eyewear.
If you ever have a query or concern about your eye health, please don't hesitate to get in touch. We have been a trusted optometry practice for over 36 years now and are always happy to answer any questions you may have.
"Early on in my career I worked for a corporate company where I realised that the patients were treated as mere numbers, not individuals. I therefore decided that I would open my own practice; where my patients were my primary concern and would receive all the time and attention they need."
Seema – Optometrist
6 Bridge St Pinner, HA5 3JE, UK
Call: 020 8866 5399
email: info@insightpinner.co.uk
Monday to Friday
9:00am – 5:30pm
Saturday
9:00am – 5:00pm